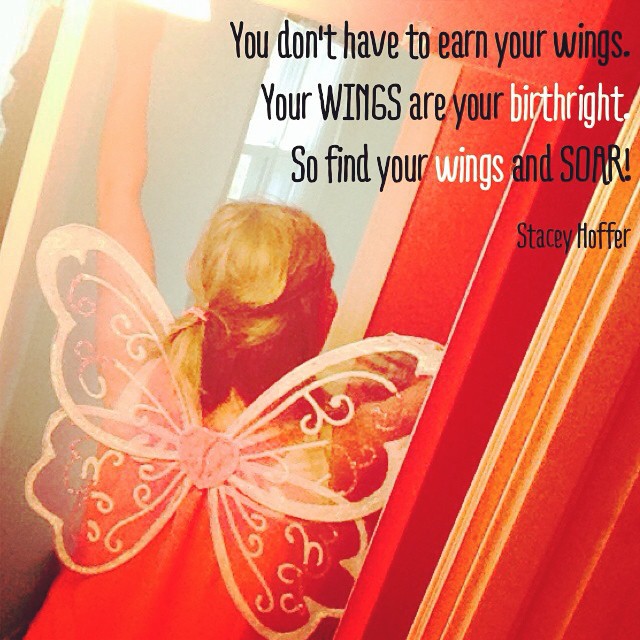 I'm not sure where the idea of having to "earn your wings" came from, but I'm here to tell you that you do not need to earn your wings. Your wings are your birthright!
Many of us were never told by our parents that we even had wings. Sure, our parents wanted us to grow up, be responsible, and be contributing members of society. But the idea of them encouraging us to wear our big bright wings, jumping off cliffs, and soar into the sunset… I think that was a bit much for my parent's generation.
I was taught….
Play It Save.
Find a Job.
Be Realistic.
And so I did.
Until the invisible cage that was suffocating my wings brought me to my knees.
And that is when I knew I had to find my wings – the wings that I was born with – the wings I have been subconscious longing for most of my life.
I first re-discovered my wings while painting in California last year.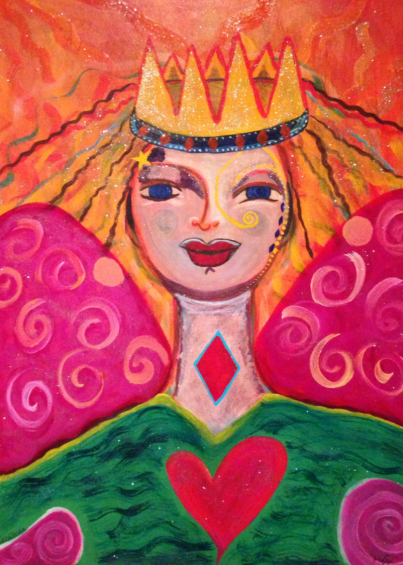 And ever since then, I've been wanting to actually have my own set of tangible wings.
I believe all girls and women deserve tangible wings as a reminder of their own ability to fly and soar!
So I Partnered with Great Pretenders…
Great Pretenders graciously provided me with my own in-real-life set of wings! And I LOVE THEM!

The amazing team at Great Pretenders believe that "dress-up" is so much more than just putting on a costume. They are passionate about what Oppenheim Toy Portfolio says about present play…
"Pretend play is not just great fun. It's the way kids develop imagination and creative thinking skills and try out being big and powerful. Pretending also brings the world down to the child's size and understanding. It's a way to develop communication skills and an outlet for expressing feelings and fears."
I love that!
Can you imagine if you were given a set of pretend play wings when you were a little girl and having your parents encourage you to PLAY BIG AND SOAR! Although my boys won't wear a pair of wings… I hope I am successful in teaching my boys to play big and soar.
Below you will find 5 benefits of pretend play. Read them. Embrace them. And go on your own magical pretend play adventure.

Benefits of Pretend Play
Children learn by imagining and doing. The process of pretending builds skills in many essential developmental areas. Dress-up play is vital to a child's development. According to licensed child psychologist Dr. Laurie Zelinger, "It fosters the imaginative processes, and allows for play without rules or script. Dress up allows for experimentation, role play and fantasy."
1. Social and Emotional Skills: Dress up allows for experimenting with the social and emotional roles of life. Through cooperative play, children learn societal rules such as how to take turns, share responsibility, and creatively problem-solve. Character play means that the child is "walking in someone else's shoes" and it encourages teamwork along with an interest in peers. The child also learns to negotiate which helps teach the important moral development skill of empathy. Since children see the world form their own point of view, cooperative play helps them understand the feelings of others.
2. Language Skills: When children engage in pretend play, you will hear words and phrases you never thought they knew. Pretend play requires children to invent and tell stories and since almost all children narrate their pretend play experiences, they train their minds to transform ideas into words. Children usually mimic words and ideas from parents, teachers, daycare or what they hear on TV. This repetition builds vocabulary and helps kids visualize what they say, especially when adults offer feedback to help kids better understand the words they use. This also helps with grammar – they may not know the rules but they are training themselves to speak like adults. This also helps make the connection between spoken and written language — a skill that will later help them to read.
3. Self-Control: Young kids typically have little self-control. During pretend play, children have to take a role and play within those boundaries, especially when other kids are involved. Studies show that children control their impulses significantly better during pretend play than at other times. Did you ever wonder why parents often make up a game to get their children to eat their vegetables or finish chores? Transforming an unappealing task into a make-believe game is a popular trick among clever parents and educators.
4. Problem Solving Skills: Pretend play also provides your child with a variety of problems to solve. Whether it's the logistics of sharing toys or a pretend problem the children are escaping from, the child calls upon important cognitive thinking skills that he will use in every aspect of his life, now and forever. Role playing games lead children to face situations that far exceed kids' real-life experiences. Children work out confusing, scary, or new life issues. Through these role plays, children become more comfortable and prepared for life events in a safe way. Children often use pretend play to work out more personal challenging life events too, whether it is coping with an illness in the family, the absence of a parent or divorce, or a house fire. Although kids may not always act logically during tough pretend dilemmas, the very process of problem solving becomes habitual. By practicing problem solving in an artificial environment, kids are better prepared to think of creative solutions to their own real-life problems
5. Self-esteem: By giving your child complete control in their pretend world and accepting them as a silly character, you are enhancing their self-esteem. While they use their own initiative to develop story lines, their creative imagination to expand stories and their own personality to choose a character they enjoy, you are enhancing their self-esteem by allowing them complete power in the world & enjoying it with them. Take for example superheroes. Considering the thrill children get out of pretending to be a grown-up, it's no wonder that they're also crazy about mimicking the most powerful version of adults: superheroes. Pretending to be Batman or Wonder Woman allows a toddler to feel brave and invincible, which helps them develop self-confidence. Similarly, all that running and leaping keeps them active and builds strength, balance, and coordination.
"Confidence is brought about in children by the realization that they have the ability to be anybody they want in this life and accomplish anything they desire. Our goal at Great Pretenders is to help kids achieve that level of confidence." ~ Kate Muddiman, Creative Director, Great Pretenders

Disclaimer: I received my wings for free and opinions are 100% my own.

{ 0 comments }