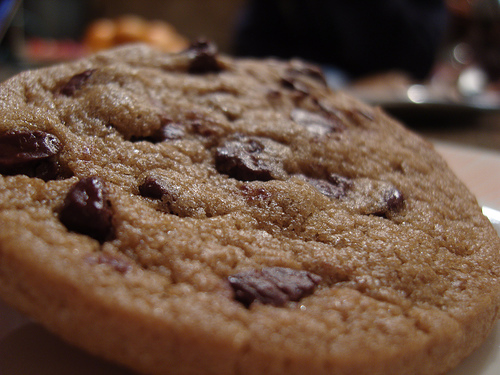 photo credit: basheertome
This is a guest post from Tess Marshall of
The Bold Life
.
We live in a culture obsessed with weight and food. Making New Year Resolutions to lose weight usually only deals with how much or what one consumes.  I believe the missing piece is failing to look at how we consume our food.
How many times a day do you eat on the run? I recently asked a client to become aware of how often and why he eats in his car. By observing his behavior he discovered he gulped fast food on his way home from work at least four times per week never enjoying any of it.
His goal was to make time to plan and prepare healthy meals. The next step I suggested was to learn how to eat mindfully.
Whether you want to lose weight or not I invite you to learn how to eat mindfully. Mindful eating involves becoming fully aware of the tastes, smells, thoughts and feelings you have as you consume a snack or meal. Mindful eating allows you to savor each bite.
Eating while multi-tasking leads to eating faster and eating more. It's impossible to enjoy and derive pleasure from meals when they become another task to fit in our day. We have learned to eat in meetings, while watching TV, in our cars and beds, in front of our computers and while running errands.
When we are hungry our central nervous system and brain receive signals from our body. It's our brain that sends out the message of being full. When our mind is multi-tasking while we're eating the signals of fullness are missed by our brain. If our brain doesn't receive or misses the messages of taste and satisfaction it will continue to send out hunger signals which lead to overeating.
Eating mindfully is being aware of the experience of eating. Mindful eaters are present in the moment. They experience chewing, tasting and swallowing.
Mindful eating is also becoming aware of when your mind wanders during a meal. You then return your awareness to the eating process and the experience of savoring and enjoying your food.
Exercise for Mindful Eating
1. Take one bite of a pear and close your eyes. Focus on the pear's texture, taste and the sensation in your mouth.
2. Begin to chew slowly noticing what it feels like. When your mind wanders let go of the thought and pay attention to chewing. Notice how your mouth moves as you chew.
3. As you swallow the pear stay present and notice the transition from chewing to swallowing.
4. With awareness notice how the food moves from your tongue to your throat. Swallow.
5. Take a deep breath. Exhale.
Mindful eating will also slow down the process of eating. Pay attention to how many times you chew a mouthful of food before swallowing and focus on savoring each bite.
Eating Cookies Mindfully
When you are mindful, you notice how your stomach feels and when you've had enough. Eating one cookie mindfully is enjoying each bite. By slowing down the process and staying in the present moment eating an entire box of cookies becomes undesirable.
1. When you pick up the cookie become aware of its sweet smell.
2. As you take the first bite notice the sound of the cookie crunching. 
3. Taste and savor the warm chocolate chip melting on your tongue.
4. Chew slowly, notice the sound chewing creates. 
5. Become present as you swallow.
6. Pause before the next bite.
7. As you continue eating the cookie continue to savor the smell, the taste, and the sounds eating a cookie involves. 
Methods to Encourage Mindful Eating
Eat with chopsticks.
Chew your food 25 times per bite.
Eat sitting down preferably at a table. (Without a computer, television, or books)
Put just enough food on your plate. Don't overload.
Make each meal last 20 minutes. If you are finished before the 20 minutes sit and have a conversation for the duration.
Identify trigger foods that set you up for mindless eating.
Go for the quality of food over quantity.
Appreciate your food and what brought it to your table.
Be grateful for the experience of eating a meal.
It's Also Necessary To…
Eat what you crave. Except for medical reasons don't allow yourself to be deprived of a particular food. Deprivation leads to binging and guilt. Don't divide foods into good and bad.
Dump All Diets. Instead learn to taste and pause in between every bite. You will naturally eat less.
Stop At Full. Your body will tell you when it's time to quit eating. Identify the signals your body sends you. Watch for signs that indicate "enough." 
Recognize Pleasure and Satisfaction. Identify the difference between emotional hunger and physical hunger.  Eat what you want to eat in a warm and inviting atmosphere. Enjoying the experience of dining will allow you to feel satisfied. Being content while eating allows you to eat less.
Tune into Your Feelings. Prior to eating are you feeling lonely, depressed, anxious, stressed or angry? Learning to cope with your feelings is as important as your food choices.
Tune into Your Thoughts. What are you thinking? I shouldn't eat this, I should eat that. I'm fat and she's so thin. Become aware of positive and negative thoughts. Breathe through them. You don't have to make them mean so much. Learn to let thoughts go.
Respect and Accept Your Body. Less than 5% of the population look like fashion models. Accept and appreciate your body, you will feel better about who you are.
Feel Energized With Exercise. Move your body while doing something fun. Walk with a friend. Play volleyball. Join a baseball team. Go rollerblading. Make exercise enjoyable and feel energized too.
Respect Your Health. If you want to live a long healthy life make consistent and wise decisions regarding your eating and exercising patterns. You don't need to be perfect just continue moving forward.
Benefits!
A healthy relationship with food
Emotional satisfaction
Positive mental and physical health
Less stress and anxiety
Increased happiness
Maintaining a healthy weight
Acceptance of your body and self
A sense of balance and well-being
Read more from Tess at her blog, The Bold Life or subscribe to her feed.